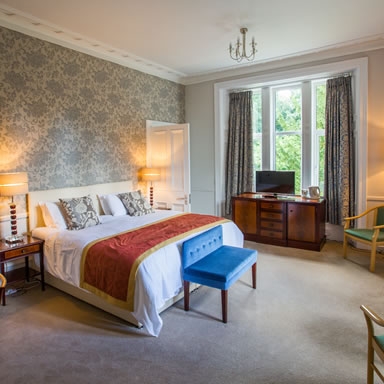 A LUXURIOUS HOME FROM HOME
Feel instantly at ease in one of our well appointed super king size rooms, relax and enjoy the tranquility of the Scottish Borders. All rooms offer private facilities, 7 rooms are ensuite and 2 have private bathrooms. Each room offers excellent views over the countryside and Hawick, the home of cashmere.
Styled and furnished to deluxe standards and offering complimentary tea & coffee, colour flat screen televisions and luxurious super king-size zip & link beds, the accommodation is perfect for both holidaymakers and business/corporate guests. Modern thermostatically controlled central heating throughout the hotel ensures you are always cosy, even in the midst of a Scottish winter.
Hooks and hangers are provided in each room, we do find that most guests prefer the additional floorspace in their rooms, rather than bulky wardrobes. However, we do understand that you may require additional hanging space; if so please let us know and we'll be delighted to provide hanging rails. Just ask at reception when you check in.
More Photos